1 tag
1 tag
New blog: Todos los discos →
I started this new little blog where I'm documenting in pictures my entire record collection, or at least trying to. Why? Because it's fun. Also I'm doing a huge memory excercise and writing when and where I got each item. Follow this if you wanna :)
1 tag
1 tag
Algodón Egipcio's 2012 Christmas Goodies
It's that time of the year! I didn't release a lot of things this year (that will change in 2013, I promise), but still here's a list of everything I've put out this year. Most of these come with a free download, so don't be shy! Previous posts: 2010 and 2011. RELEASES Los Remixes de La Lucha Constante (Lefse Records) ::DOWNLOAD:: Split 7" w/ El Faro (Acuarela...
1 tag
1 tag
1 tag
NPR Music's 100 Favorite Songs of 2012 →
AWESOME! My song "La Espina del Cardenche" made it to the 50 Favorite Songs of 2012 list put together by NPR Music. I didn't really release a lot of new music this year, so I was surprised to even be considered for any year-end list. I'm happy it was with this song, I'm particulary proud of it. If you still haven't heard/downloaded it, get it HERE.
1 tag
1 tag
1 tag
1 tag
1 tag
1 tag
1 tag
1 tag
1 tag
1 tag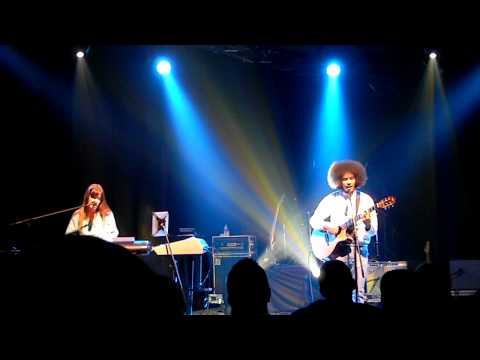 1 tag
1 tag
1 tag
1 tag
1 tag
1 tag
1 tag
Mix @ International Tapes →
My buddies at International Tapes posted today a brand new mix I made for them. Each song comes from a different country (this is the concept of an upcoming release of mine, stay tuned). Check it out, you can download it if you like it, it's free. Tracklist: 01 Fakuta – Juntapena (Chile) 02 Torkelsen – Simple (Norway) 03 La Gallera Social Club – Chimban-Guele (Venezuela) 04 Za! – Calonge...
1 tag
Interview + Mix @ Dos Mundos →
My new friend Sergio from Dos Mundos, based in Toronto, interviewed me recently, and here's the result. It was my first Skype interview, I look a mess! But the questions are good, check it out. It's accompanied by a mix I made that I love how it turned out, you can check that out too on the link. Here's the tracklist: 01 Salva - Beached 02 Roberto Carlos Lange - Year One 03...
1 tag
NPR Music's 50 Favorite Songs of 2012 (so far) →
My song "La Espina del Cardenche", from the Norte Sonoro EP, was picked by NPR Music as one of their favorite songs of the year so far! How cool is that? You can download it, and the whole EP, for free here. I'm celebrating this by watching this gif of my friend Ulises Hadjis, the poet, writing on air:
1 tag
1 tag
Entrevista @ Disidencia Sonora →
Mi amigo colombiano Andrés (de la súper banda Andrés Gualdrón y los Animales Blancos) me hizo unas preguntas interesantes para su espacio Disidencia Sonora, en la página de Revista Arcadia.
1 tag
NEW REMIX: Mariachi El Bronx - Revolution Girls...
1 tag
NEW COVER: Algodón Egipcio - Color Café (Serge...
Algodón Egipcio - Love Will Never Do (Without You)...
1 tag
1 tag
NEW COVER: Algodón Egipcio - Love Will Never Do... →
I was ask by Cokemachine Glow to make a cover of an 80s song for their latest Fantasy Podcast. I picked this song by one of my favorite artists ever. Check it out!
Entrevista @ Myexpace →
Publicaron esta entrevista rápida que me hizo la web española Myexpace. Está divertida.
1 tag
Tour Notes - Feb '12 // España (pt2)
I woke up very early on a Wednesday to take a bus to Vigo, I was really happy to go back there because it was the first Spanish city I ever visited and I have great memories of going there. I fell asleep almost instantly, very boring bus ride, until I found out there was internet connection, score! The highway to Galicia has such a lovely landscape, for real. The promoter's girl, Sabela,...
1 tag
1 tag
Latest pieces of music by Algodón Egipcio
Just a reminder of the latest songs of mine that have been released recently: - "La Conducta Original" is a song included on the "Plásticos y Etéreos 2012" compilation, put together by Revista Plástica. Get it for free HERE. - "El Mejor Lugar" and "Anita (La Estrella de David Cover)" come in a new split 7" with Spanish band El Faro, and was...
1 tag
Tour Notes - Feb '12 // Italia
I opened my eyes and thought "this is it: I'm doing the rest of the tour by myself". That means a lot of things: I have to take care of everything, and be alert at every second; one misstep and I'll get lost, miss the show and won't get paid. Also means a lot of spending time alone and thinking and thinking, that can drive you a little crazy. And you better pray that...